Quality Assurance
Quality Policy
YAMADA aims at achieving the quality that surpasses our customer expectation and pre- and post-processes by allowing its employees to exercise their ingenuity through "full participation" and continuously improving work and manufacturing processes and thereby ensuring proper operation of its "Quality Assurance System."
To realize top-class quality, YAMADA mobilizes the capacities of all employees involved in YAMADA products to achieve "Zero-defect" through their "full participation." YAMADA gains customer satisfaction and trust by offering products with the quality that surpasses customer expectation.
Education about Quality
We are focusing on education about quality throughout YAMADA.
In addition to the Quality Assurance System for YAMADA's 3,500 Employees (OFF-JT), as have established a Quality Corner in each plant to provide opportunities for education about quality, where employees can learn while coming into contact with actual products handled on the manufacturing floor and inspection devices. We attempt to enhance quality skills and raise awareness of quality.
Course on quality function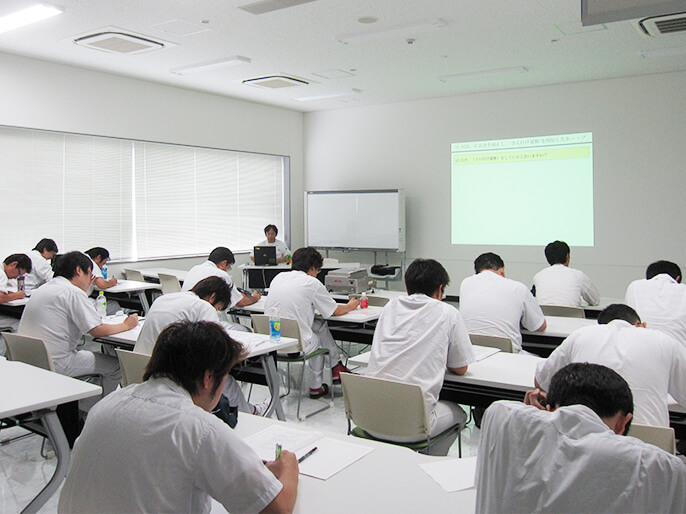 We provide education about quality according to employment position or rank, from new hires to veteran employees, through in-house education programs and external workshops. In particular, we have prepared a program of intensive courses for core personnel and employees stationed overseas. We also encourage employees actively take trade skill tests to further improve their skills.
Class on process FMEA and QA matrix for a new model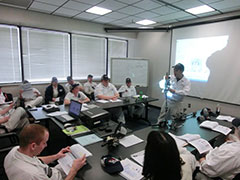 The Quality Corner is mainly for members of manufacturing departments. Here we provide education for newcomers and opportunities for employees to learn while coming into real contact with functions, movements, process guarantee methods, and the handling of measurement devices when a new model is being launched. We also provide workshops for improving measurement techniques.
Internal Laboratory
YAMADA has a variety of advanced analytical equipment. Our internal laboratory personnel, who are totally competent, perform numerous types of analyses.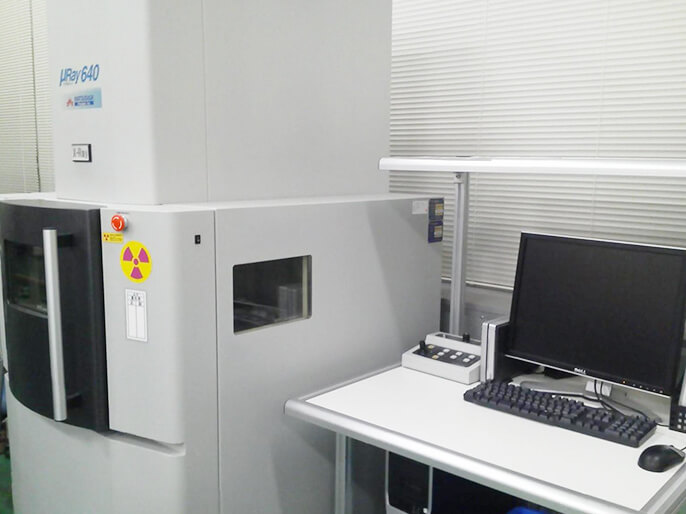 YAMADA's in-house laboratories are located in the each production plant.
Our inspectors perform accurate and speedy tests in-house, from various R&D tests through tests at the prototype stage to tests for mass production quality assurance.
Operation of in-house laboratories and the calibration of testing equipment are conducted reliably in accordance with IATF16949 requirements. Validity is confirmed through internal audits and audits by external audit organizations.
Main testing equipment (we operate more than 200 pieces of large testing equipment)
| | |
| --- | --- |
| Non-destructive inspection devices | Emission spectrophotometers |
| 3-D measuring machines (non-contact and contact types) | Autographs |
| Projectors | Gear testers |
| Climate chambers | Roundness and cylindrical geometry measuring devices |
| Surface roughness and contour form measuring devices | Hardness testers |
| Electronic balances | Salt spray testers |
| Spring testers | |
Electron Probe MicroAnalyzer (EPMA)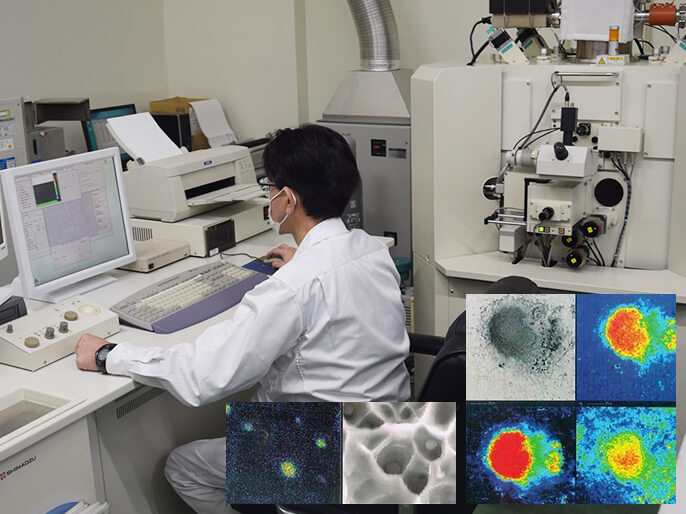 | | |
| --- | --- |
| Model | Shimadzu EPMA-1610 |
| Electron source | W filament, CeBix cathode |
| Acceleration voltage | 0 to 30 kV (0.5-kV steps) |
| Magnification | 50X to 400,000X |
| Resolution | 5nm |
This analyzer is the most reliable microanalysis device as a scanning electron microscope that clarifies the structural elements of a test piece by exposing it to a proton beam as a non-destructive method of analysis. Moreover, it has a wide field of vision, from the micron level to the order of centimeters, easily enables both observation and analysis, and can perform qualitative and quantitative analyses, chemical bonding state analysis, linear analysis, and provide mapping such as one-dimensional and two-dimensional distributions.
Non-Contact, 3-D Measuring Device (Laser CMM)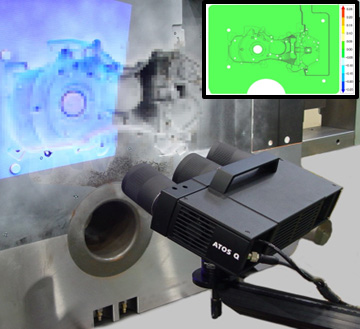 Model
Mitsutoyo Crysta-ApexC9168
Laser Line Probe Metris LC100
Range
X axis: 905 mm
Y axis: 1,605 mm
Z axis: 805 mm
Smallest display amount
0.0001 mm (0.1μm)
This probe gathers coordinate values on a measured object at high speeds of up to 19,200 points per second by exposing the measured object to a 50-mm wide, 100-mm high line laser. Using CAD data, it is possible to make a comparison measurement with the product shape and to make high-efficiency assessments.
International Quality Certification (IATF16949)
All of YAMADA's bases worldwide have acquired ISO/TS 16949 certification, the international standard for quality assurance. We supply products that give customers peace of mind, having been manufactured on production lines with solidly established quality management systems.
Certified base
Initial certification date
YAMADA MANUFACTURING Co.,Ltd. (include the support department, such as design.)
 
Isesaki Department
Jan. 31, 2021
Kiryu Department
Jan. 31, 2021
YAMADA North America, Inc.
Feb. 11, 2021
YAMADA SOMBOON Co., Ltd
Jul. 31, 2021
CHENGDU TIANXING YAMADA AUTO PARTS CO., LTD.
Sep. 12, 2021
*IATF16949 is the international standard for quality management systems, a specific application of ISO 9001 to the auto industry.
Certificate
Isesaki Department

Kiryu Department